Linear Zoetrope - Pacman
Assignment:
Group project - each group are required to design, build, and mount a linear zoetrope from scratch at their destined location within the lab.
The Making
Dividing the class into five randomly assigned groups, Josefina drew the lucky straw for our group to be placed right above the 10th floor entrance elevators. Winning the most coveted spot was part one. Making something cool (and avoiding smashing the brains out of people) was the real challenge for us.
Well... I did sign a
contract to sell my soul to the devil
letter of agreement so I won't elaborate too much on the technical details even though it's already patented. Dang, that's the juicy part of the design.
Having a huge advantage considering
I've been building junk for a while
my degree in architecture, we went with my design pitch.
Basically the zoetrope is tilted at an angle to compensate for the difference of height to eye level.
Use the metric system already. Seriously. Stop living in a hole.
As of the animation, we all agreed that we needed to go with something geeky in order to fit and be the face of DT's (Design & Technology) lab. From my random pacman suggestion it sounded like a classic so we went with it. Josefina took the reins for the animation, compression, and printing.
Photos
[Click to enlarge.]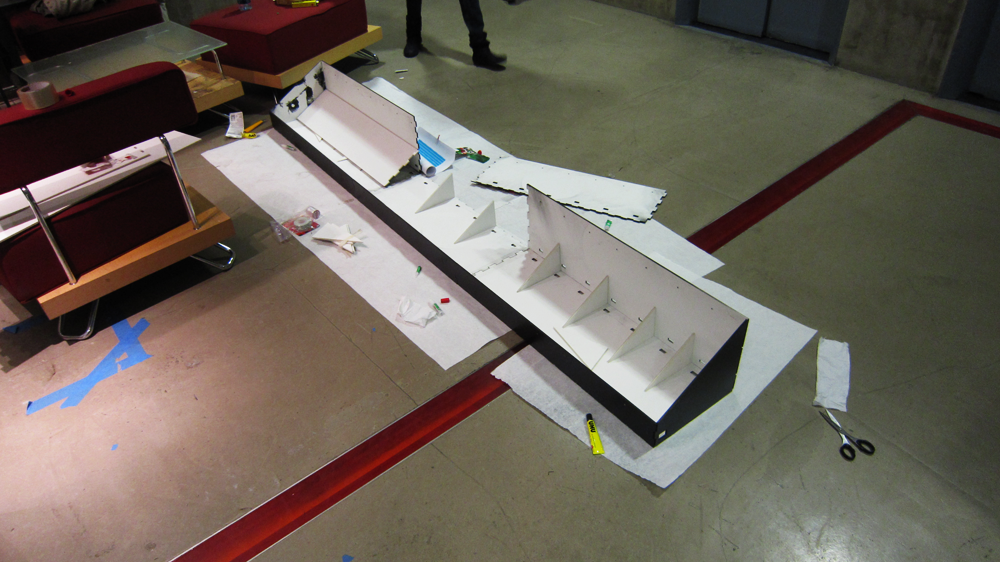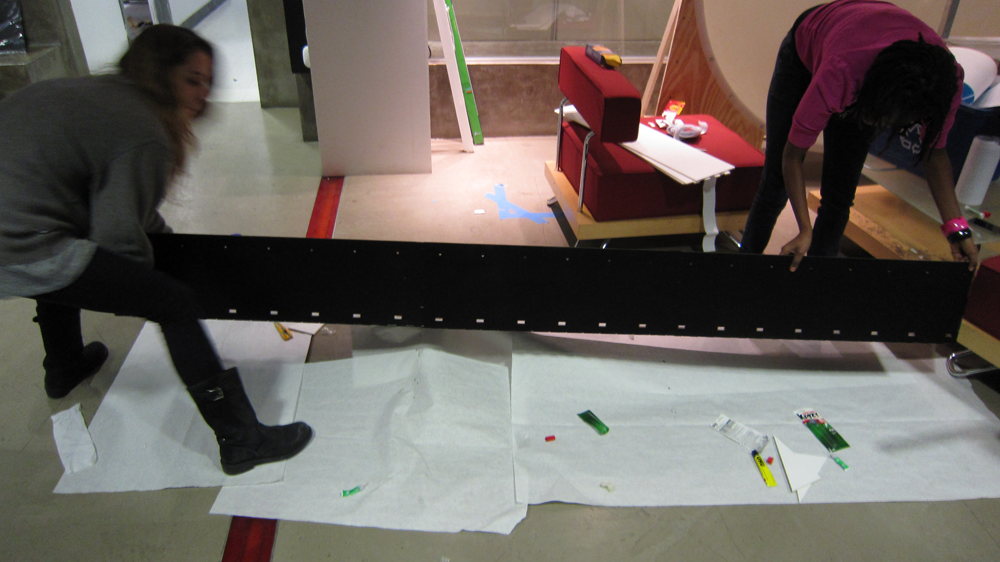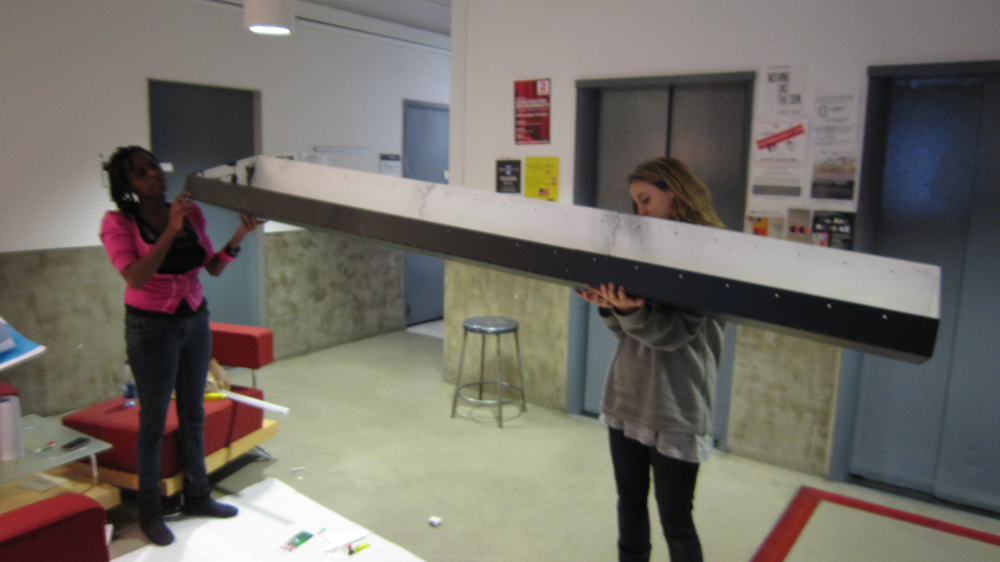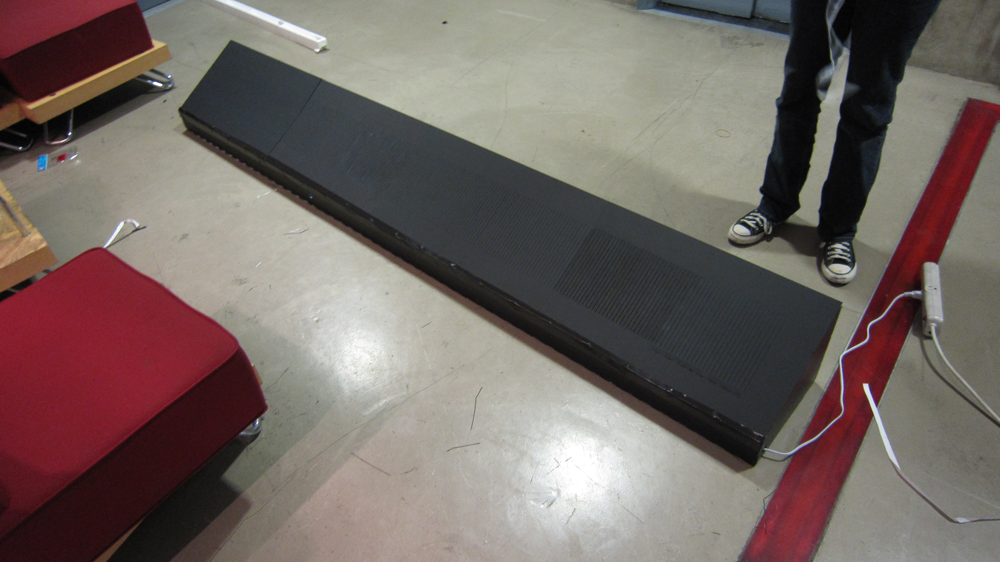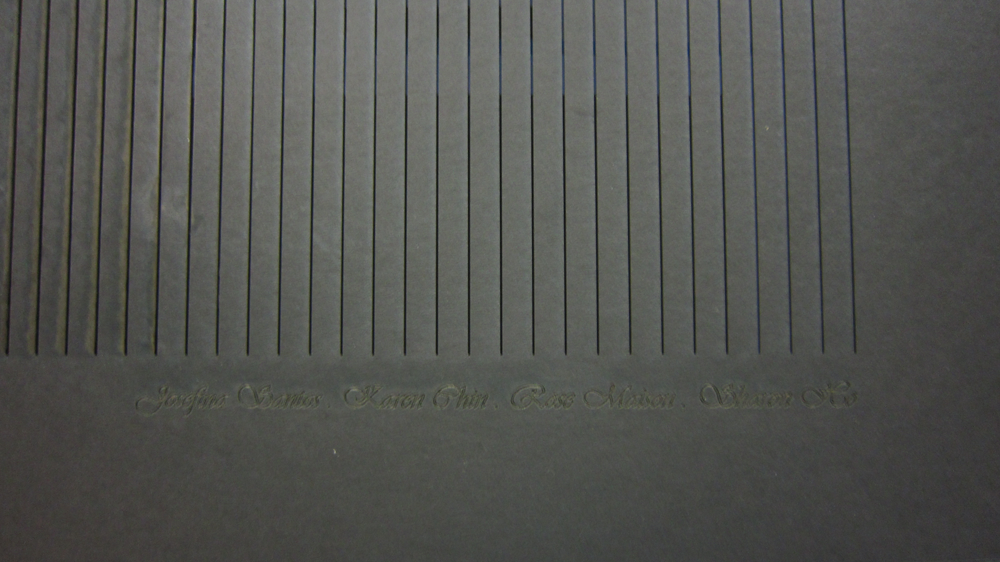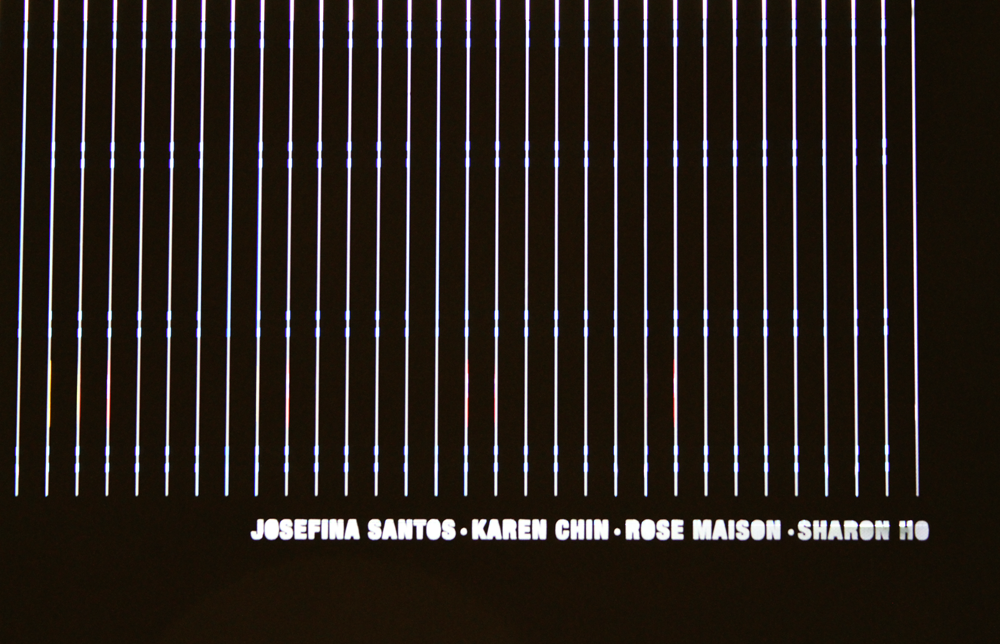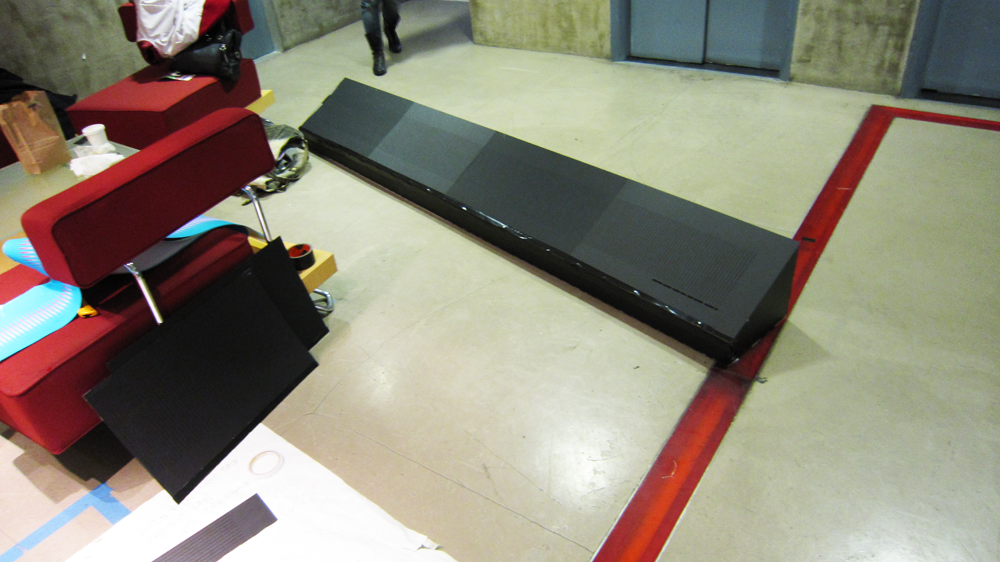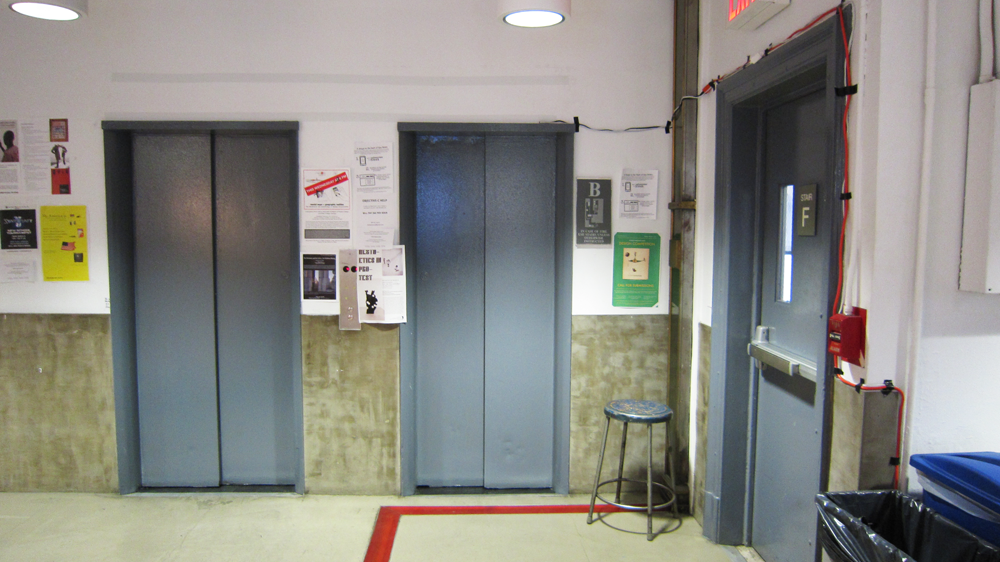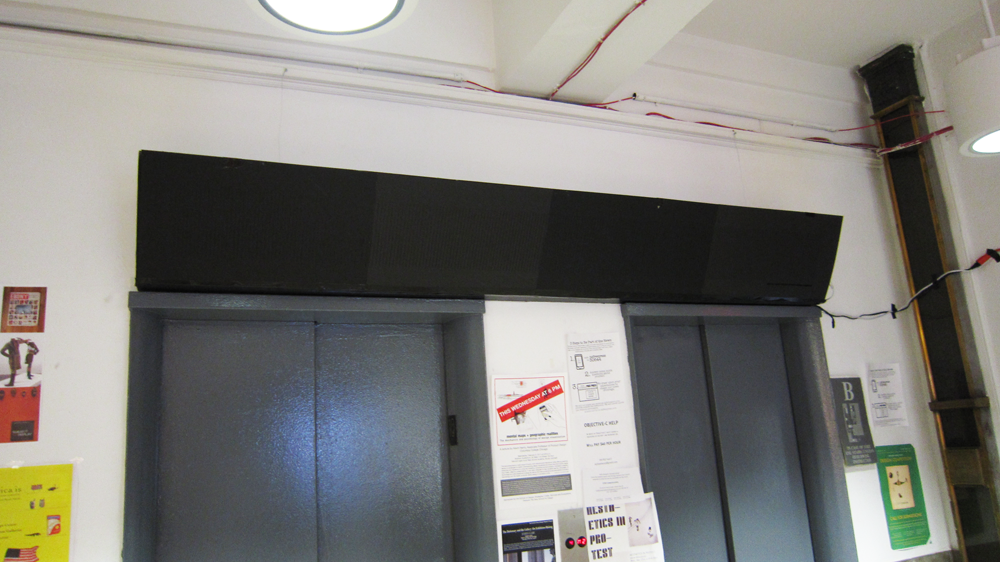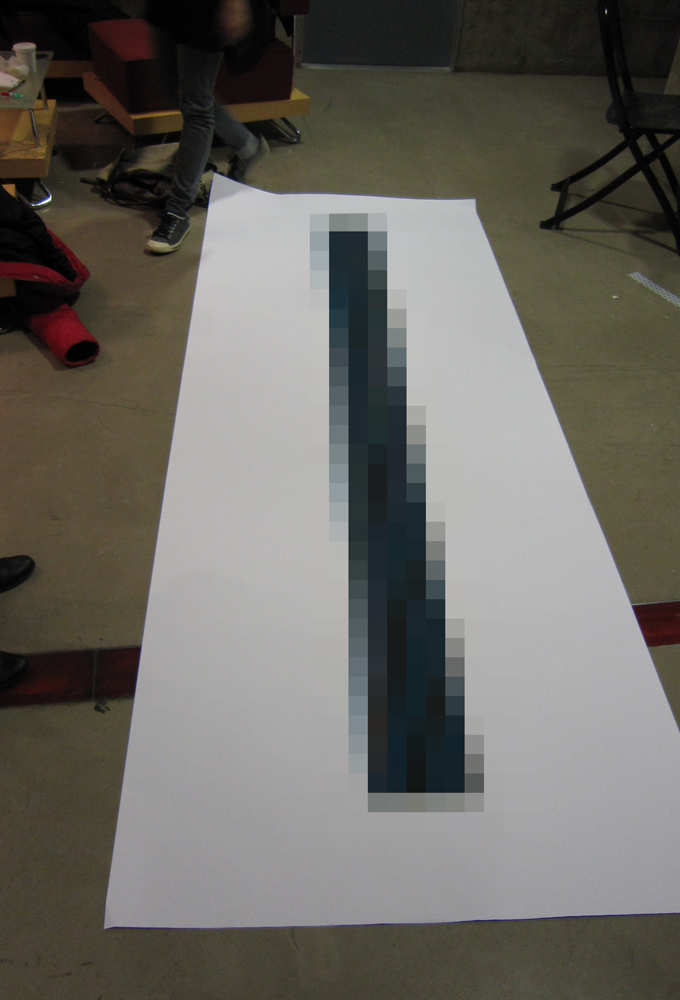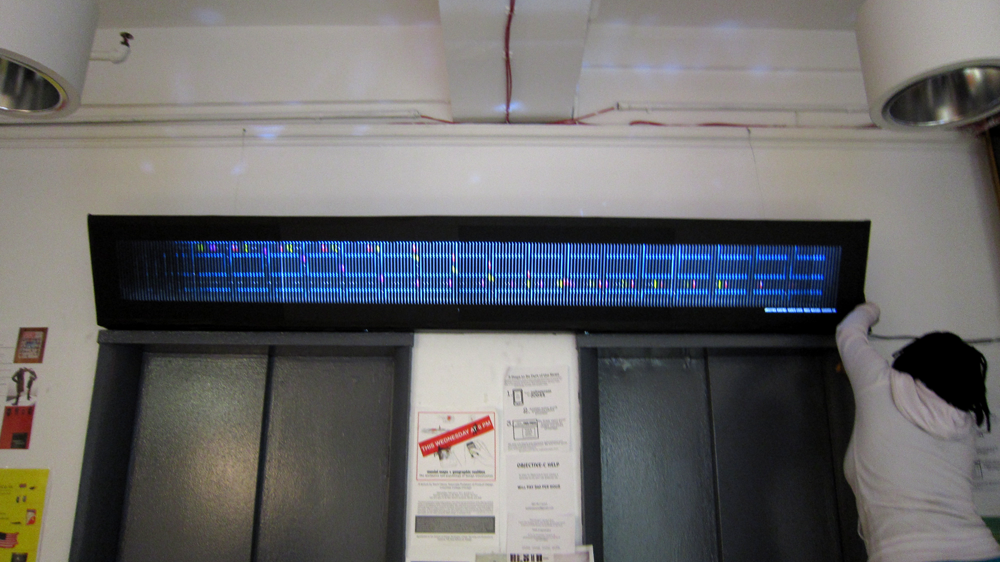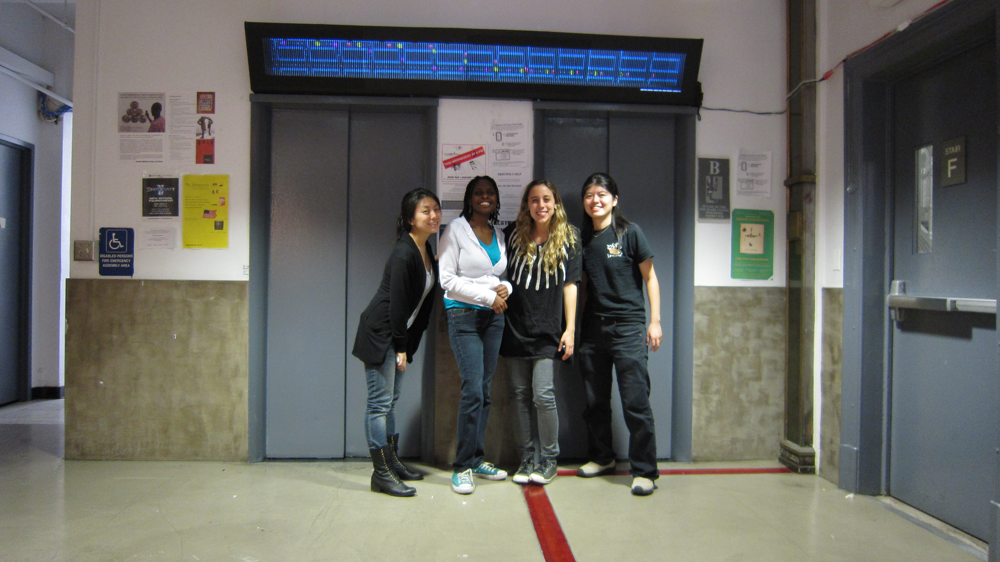 Things I didn't totally account for at the time
Asking for some $$ from outside sources. Most of the supplies came from our own pockets which would have tasted better as a couple of steak dinners.
Trusting the school's now-crapped-out a.parsons server. There goes all my blog posts.
The quality of the laser cutting wasn't as uniformed and precise as I had wished, with the super long queue, we had to hand cut a lot of the slits on the front panel. In addition, they used the wrong side of the cardboard on two of the panels hence the you-probably-wouldn't-have-noticed-if-I-didn't-tell-you different colors. See side view pic.
I would have tweaked the design a bit (fine, a lot) if I knew we were allowed to drill into the walls. Well of course you get permission when it's already too late. Anyhoo, I would have used metal instead of foam and cardboard. Also, if I knew they weren't taking it down within a couple months I would have avoided using that much glue. With four precaution measures, I'm sure it won't fall and knock someone out, but I wouldn't be so certain that the "art" piece itself would remain at its prime when it's gone.
As of the display time, we were told the lab was already planning on a makeover during that summer. I graduated before it was taken down. Last I heard it was still mounted there. Amazing.
Outdated class blog - http://submediaanimation.wordpress.com/
Linear Zoetrope Part II
Send me back up plz...